Rani & Hannah Espanioly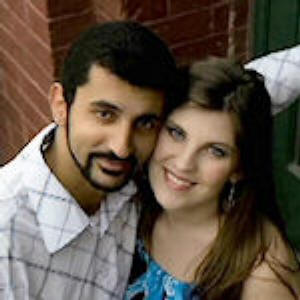 Make Us One
1. John 17.22-23 Arabic & English
2. Make Us One
3. John 14.15-18 Arabic & English
5. Genesis 17.1-2 Arabic & English
6. El Shaddai
9. Proverbs 18.10 Arabic & English
10. Adonai
11. John 3.16 Arabic & English
12. How Deep The Father's Love
13. Matthew 11.28-30 Arabic & English
14. Come To Jesus
S.A.L.A.M. (Serving Among Local Arabic Ministries) was founded in 2009 by Rani and Hannah Espanioly, and exists first and foremost to bring glory and honor to Jesus Christ. Our goal is to work closely among Arab Christian ministries in Israel and the Palestinian Territories along with our brothers and sisters in Christ throughout the world. We wish to bring recognition, encouragement and support to this body of believers by raising awareness about the Arab Christian population in the Holy Land.

Rani was born and raised in the town of Nazareth, Israel. At the age of 22, he experienced the life-changing power of God and committed his life to following Christ. As an Arab Christian, he became part of a tiny minority of Arabs and evangelical Christians residing in Israel. In 2004 he attended a one year seminary in England and returned to his home country to begin his ministry. He served as the music coordinator for the Association of Baptist Churches in Israel and began work as a tour guide at Nazareth Village, where he conducts "parable walks" and share the biblical story of Jesus with visitors from around the world. I am also involved in Christian media and often plays the role of "Jesus" or the apostles in film productions. He speak four languages fluently: Arabic, Hebrew, English and French. "My vision is to work full time in the field of ministry, bridging the gap between the Arabic speaking people of my land (mostly Muslim) and the Hebrew speaking people (Jews) to bring the gospel of Jesus Christ and ultimately, the peace of Jesus to the land of Israel."

Hannah is originally from Rockwall, Texas. She sang part-time in the Fort Worth Opera Chorus, and spent time pursuing musical interests and professional theatre, but decided to follow a lifelong calling to Israel in the summer of 2007. In Israel, she had the opportunity to spend a year working with local Christian Arabs in the town of Nazareth, where she met Rani. "The most important part of my life is my commitment to Jesus Christ and His call upon me. I am so blessed to be a part of the great work being done here in the Holy Land and believe that the only true solution to the 'peace of Jerusalem' lies with the believing remnant in Israel. My call is to work hand in hand with these people, along with my husband, to bring the saving news of Jesus."